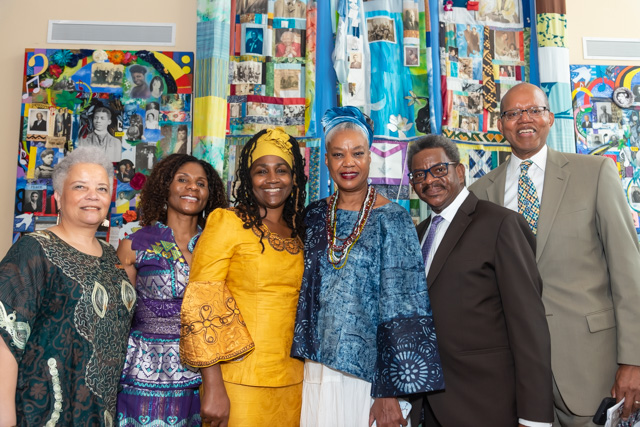 A program of "Remembrance and Dedication" was held following Palm Sunday Services on April 14, 2019 at First Congregational Church, UCC to observe the dedication of two new panels to the Ancestral Agan.
Visual Artist Lynn Marshall Linnemeier was present to help dedicate the new additions to her masterful artwork.
The Altar Guild of First Church helped shepherd the art work project and assisted the artist with involving members of the congregation in the creation of the Agan. Members supplied images of their family members and other historic photographs, and ephemera about their ancestor's life, and church life, which the artist incorporated into each Agan panel.
The Agan is a costume that represents the return of ancestors in Ifa ceremonies. Ifa is a spiritual belief system practiced by the Yoruba in Nigeria as well as other African nations and throughout the African Diaspora. The Agan is worn during the Egungun masquerade. The word "Egungun" means ancestors. The masquerade is theater at its finest with the community actively participating in the procession as the costumed "ancestor" moves through the streets. The masqueraders perform for the crowds and the costume itself becomes a prop. Constructed of layers of fabric, the flaps of the costume, which represent the skirts of Oya (a female African Orisha (deity) who represents wind and change) fly out like a windmill as the performers spin around. The costume and performances are metaphors for time and change.
Photos from the Agan Ceremony are below: