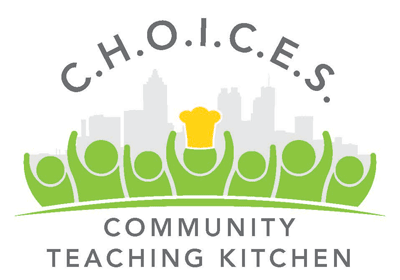 C.H.O.I.C.E.S and First Congregational Church partner to create community teaching kitchen to help bring families back to the dinner table.
[ATLANTA, GA] Thursday, March 21, 2019 – In partnership with First Congregational Church, C.H.O.I.C.E.S., The Center Helping Obesity in Children, has opened a community teaching kitchen in downtown Atlanta.
The grand opening for the new C.H.O.I.C.E.S. Community Teaching Kitchen took place on Thursday, March 21st at the C.H.O.I.C.E.S. Center located at 125 Ellis Street, Atlanta, GA 30303. Atlanta City Councilman Amir Farokhi and other local city officials made remarks during the program. Also featured was Chef Alex Askew, author of "Mindful Eating for the Beloved Community" and an interactive experience through various education workstations on how to incorporate techniques to manage and combat diabetes, heart disease and obesity with mindful eating. 
The new C.H.O.I.C.E.S. Community Teaching Kitchen goal is to provide an innovative approach towards children's education, adult health and food sustainability with train-the-trainer health education workshops, nutrient based cooking classes, chronic disease workshops and seminars of alternative food systems. The new kitchen space will offer healthy cooking classes to the Atlanta community at an affordable cost where proceeds from the paid classes will be utilized to further the C.H.O.I.C.E.S mission to fight childhood obesity.
"Our collaboration with C.H.O.I.C.E.S. reflect our mutual understanding that good nutrition and a proper diet are essential to happy and healthy children. Healthy children and families are essential to thriving communities. We admire and respect C.H.O.I.C.E.S and will continue to fully support its efforts on behalf of all of us," said Dr. Dwight D. Andrews, pastor of First Congregational Church.
"We now have the chance to impact the Atlanta community in a more impactful way. Our goal is to make cooking healthy and delicious meals an exciting experience for families," says Lynne Scroggins, C.H.O.I.C.E.S. Board Chair/Wellstar Atlanta Medical Center Vice President Community Development.
C.H.O.I.C.E.S.
The mission of the Center Helping Obesity in Children End Successfully, Inc. (C.H.O.I.C.E.S.) is to be a parent and child resource center for the clinically diagnosed and at-risk children of obesity.  Over the last 17 years, CHOICES has delivered its message of health to more than 85,000 children and adults through cooking classes, workshops, summer camps and health expos. For more information, visit: www.choicesforkids.org .
Video of the C.H.O.I.C.E.S. Community Kitchen Grand Opening is below:
C.H.O.I.C.E.S. Community Kitchen Grand Opening: March 21, 2019