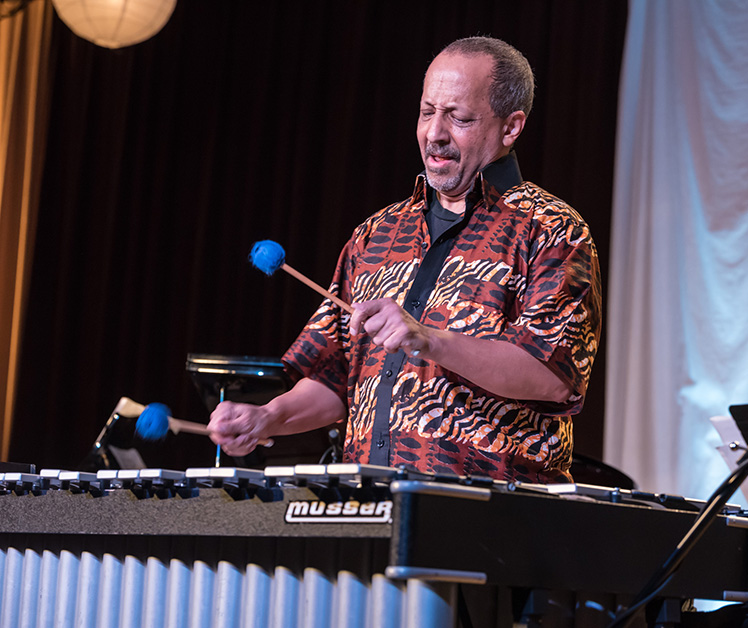 First Friday at First – at First Congregational Church – Atlanta's first choice for extraordinary jazz, performed by some of the best musicians and vocalists found anywhere throughout the world!
The featured artist at the First Friday event for October 4th is renowned vibraphonist Jay Hoggard. He will appear with his quintet at 6 PM at the Commons, 125 Ellis Street, NE., Atlanta, GA 30303.
Atlanta, GA (September 8, 2019). Atlanta jazz enthusiasts know that "First Friday at First" is always the place to be on the first Friday of each month. What could be better than hearing Jay Hoggard, performing with Dwight Andrews, in the most comfortable, acoustically satisfying jazz rooms in the region. Great jazz is always good for the soul and the spirit; and good food and drink is an added enticement at First Friday.
Vibraphonist and composer Jay Hoggard has touched the hearts and souls of many listeners and captured many fans during his forty-year professional career. Hoggard ranks with the greatest vibraphone innovators including Lionel Hampton, Bobby Hutcherson, and Roy Ayers. His music has been described as uplifting, positive, and even spiritual. He is the son of an AME Bishop. Jay masterfully draws on traditional and contemporary musical vocabulary and seamlessly blends jazz and gospel roots with African marimba rhythms. His performance repertoire represents the three B's of the jazz tradition (Blues, Bop, Ballads) with original innovations.
Jay Hoggard has recorded 22 albums as a leader and over 50 albums as a collaborator. His newest CD, released in 2016 on the JHVM label, is HARLEM HIEROGLYPHS. This two-disc recording features Gary Bartz saxophones, James Weidman piano/organ, Nat Adderley, Jr piano/organ, Belden Bullock bass, and Yoron Israel drums. At his alma mater, Wesleyan University, Hoggard has been a tenured Professor of Music for over 25 years and directs the Wesleyan Jazz Orchestra and teaching and mentoring thousands of students.
The public is invited for great music, dinner, fun, and fellowship. Come early to get a seat or purchase your tickets in advance. Individual tickets are $20.00 each; season tickets are $15 each for purchases of eight or more concerts; and student tickets are $10.00 with student identification. Prices for dinner range from $4.00 to $7.00.  To purchase tickets for First Friday at First, please visit Eventbrite at firstfridayatfirst.eventbrite.com.  All funds raised at church-based events will be used toward other church programs and outreach ministries.  For further information about First Friday at First, please contact First Church at 404-659-6255 and ask for the church administrator during regular office hours or contact the First Friday team at firstfriday@firstchurchatl.org.  Free Parking is available at the C.A.R.E. parking lot next door to The Commons on Piedmont and Ellis Streets.