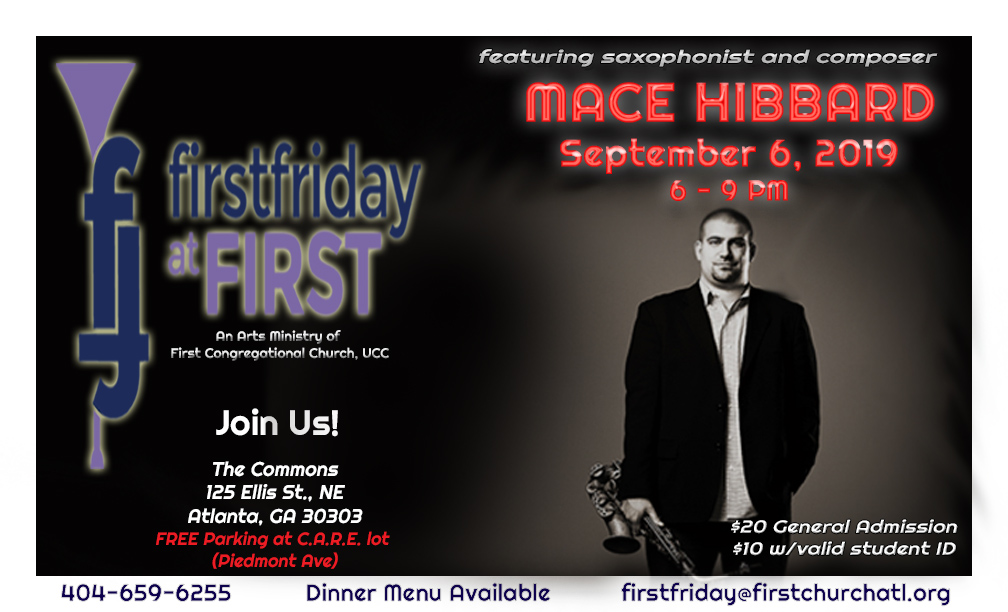 The featured artist at the First Friday event for September 6th is saxophonist Mace Hibbard.  He will appear with his quartet at 6 PM at the Commons, 125 Ellis Street, NE., Atlanta, GA 30303.
Atlanta, GA (August 8, 2019).  Atlanta jazz enthusiasts know that "First Friday at First" is always the place to be on the first Friday of each month. What could be better than hearing jazz saxophonist Mace Hibbard in one of the most comfortable acoustically satisfying jazz rooms in the region? Great jazz is good for the soul; and good food and drink is an added perk of First Friday.
Growing up in a family replete with music, day end and day out, Saxophonist Mace Hibbard was destined to be a great musician.  He is performing on Friday, September 6th at First Friday at First using his technical mastery on flute and clarinet.  Hibbard moved to Atlanta from Texas, formed a quintet, and ultimately established his place in the Atlanta jazz scene. Performing with some jazz greats including Melvin Jones, Louis Heriveaux, Marc Miller, and Marlon Patton, his jazz sounds are among the best. Some of his performances have been partnerships with musicians like Trey Wilson (The Hibbard/Wright Project), the Joe Gransden Big Band, the Atlanta Symphony, the Georgia Symphony Big Band, and many others.
The public is invited for great music, dinner, fun, and fellowship. Come early to get a seat or purchase your tickets in advance. Individual tickets are $20.00 each; season tickets are $15 each for purchases of eight or more concerts; and student tickets are $10.00 with student identification. Prices for dinner range from $4.00 to $7.00.  All funds raised at church-based events will be used toward other church programming and ministries. For further information and to purchase tickets, please contact First Church at 404-659-6255 and ask for the church administrator during regular office hours or contact the First Friday team at firstfriday@firstchurchatl.org.  Free Parking is available at the C.A.R.E. parking lot next door to The Commons on Piedmont and Ellis Streets.