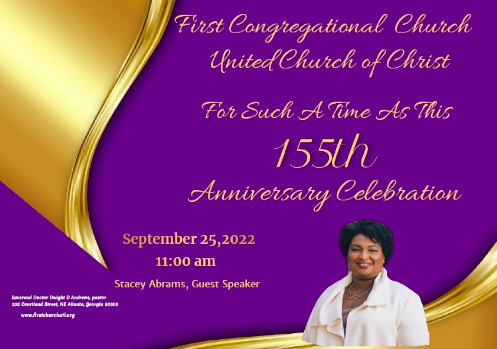 First Congregational Church celebrates 155 years of mission and ministry, including its legacy of racial conciliation. The Anniversary Worship Service is set for Sunday, September 25 at 11 a.m. at the church's historic downtown location at 105 Courtland Street.
"This is a special time to celebrate both the strength of our ministry and its sustained commitment to seeing ourselves and the world as we should be," said The Rev. Dr. Dwight D. Andrews, First Church's senior pastor.
Stacey Abrams, the Democratic Party for Governor of Georgia and the daughter of parents who are both ministers, will address the Anniversary theme, "For Such A Time As This."
The anniversary celebration will also be streamed on our church's website, our YouTube Channel and our Facebook Page.