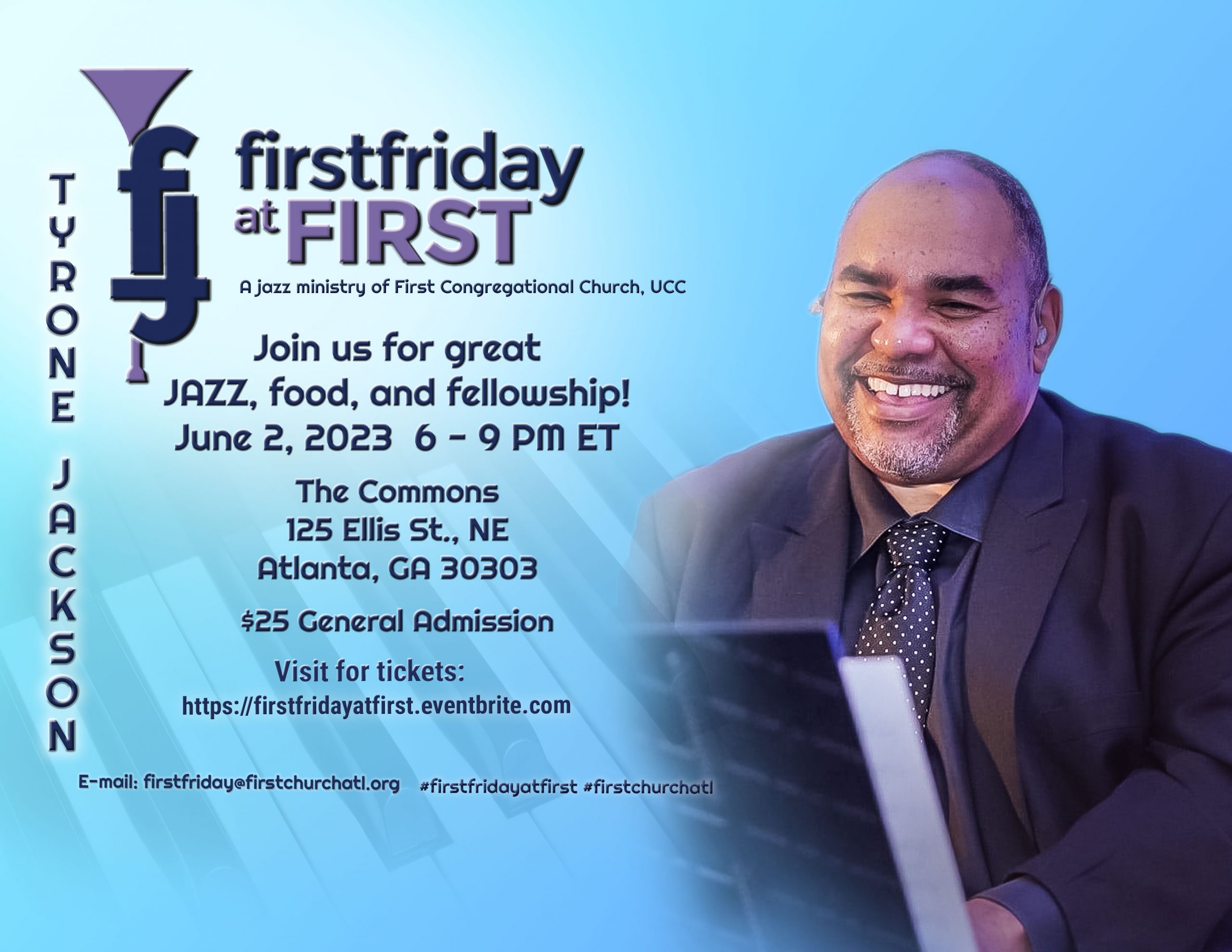 First Friday at First – Jazz Series 2023 with Tyrone Jackson on June 2, 2023 at 6pm.
The name Tyrone Jackson is the quintessential jazz piano player. His boundless creativity coupled with harmonic mastery, utilizes the piano as a blank canvas.  Jackson is nationally recognized and has traveled the world as a solo artist and sideman.
As a composer, Jackson has composed original music for Pulitzer Prize winning author Natasha Trethewey's book of poems "Native Guard" turned theatrical play, Pearl Cleage's play, "Tell Me My Dream", "Ethel" and the Alliance Theater production of "Nick's Flamingo Grill." Recently, Jackson has composed music for short documentary "The Invitation" and the North Carolina Black Repertory Theater's release of "Phenomenal Maya". Jackson has recorded 4 Albums—"Dedicated", "Another Voyage", "Melody In Nede", and newest release "From The Mind Of."
Ticket here: https://www.eventbrite.com/e/first-friday-at-first-jazz-series-2023-with-tyrone-jackson-tickets-629168960297?aff=ebdsreoeymlcollection
The public is invited for great music, dinner, fun, and fellowship. Doors open at 5:30 PM.  Seating is limited. The availability of tickets at the door are based upon advanced ticket and table sales. General Admission tickets are $25; student tickets are $10 each with student identification (show ID at the door). Reserved tables of 8 are $200. Prices for dinner range from $4.00 to $10.00.
For further information about First Friday at First contact the First Friday team at firstfriday@firstchurchatl.org.
Free parking is available at the C.A.R.E. parking lot next door to The Commons on Piedmont and Ellis Streets. Paid parking is available at the First Church parking lot off of John Wesley Dobbs at 105 Courtland Street.
Talking Drum Music Camp ~ June 5 – June 16, 2023
The First Church Community Development Corporation (FCCDC) hosts the 2023 Talking Drum Music Summer Camp for middle school students.The Talking Drum Music Summer Camp offers upcoming 6th, 7thand 8th graders dynamic group instruction in band and string instruments by trusted and experienced music educators. The two-week session will take place June 5 – June 16, 2023, 8:00 AM – 3:30 PM at First Congregational Church, 105 Courtland St NE, downtown Atlanta, 30303. Students can be dropped off as early as 7:00 AM. After-hours care is provided for an additional fee (Please read below.). Aftercare campers must be picked up by 6:00 PM.Students with no experience, beginner and intermediate skills are welcome to join us for two fun-filled weeks of learning the fundamentals of winds (clarinet, flute, trumpet, alto saxophone), strings (violin, viola, cello, double bass), percussion (drum pads), and piano (keyboard, glockenspiel). Our mission is to empower students to tell their stories through music, connecting it to our diverse culture and powerful history.
In addition to learning basic theory and techniques, all participants in The Talking Drum Music Summer Camp will engage in call and response activities to promote expression in words, movement, and music to set a positive tone for the day. Akin to an African village, our circle anticipates visiting musicians, community elders, college student mentors and storytellers to help foster a nurturing and healing environment.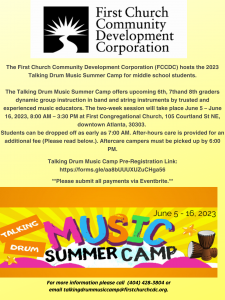 Performances
The culminating reception and concert will take place Friday, June 16, 2023, at First Congregational Church. A tentative Juneteenth performance is scheduled for Saturday, June 17, 2023.
Registration & Tuition
Tuition for one student for the two-week session is $300.00. Family discounts are: $500.00 for two students; $600.00 for three students; and $700.00 for 4 students. A non-refundable $50.00 Deposit is required at registration by May 17, 2023. Tuition must be paid-in-full by May 31, 2023. After-hours Care from 3:30 PM– 6:00 PM is available for an additional $10.00 per day. Scalable scholarships are available.