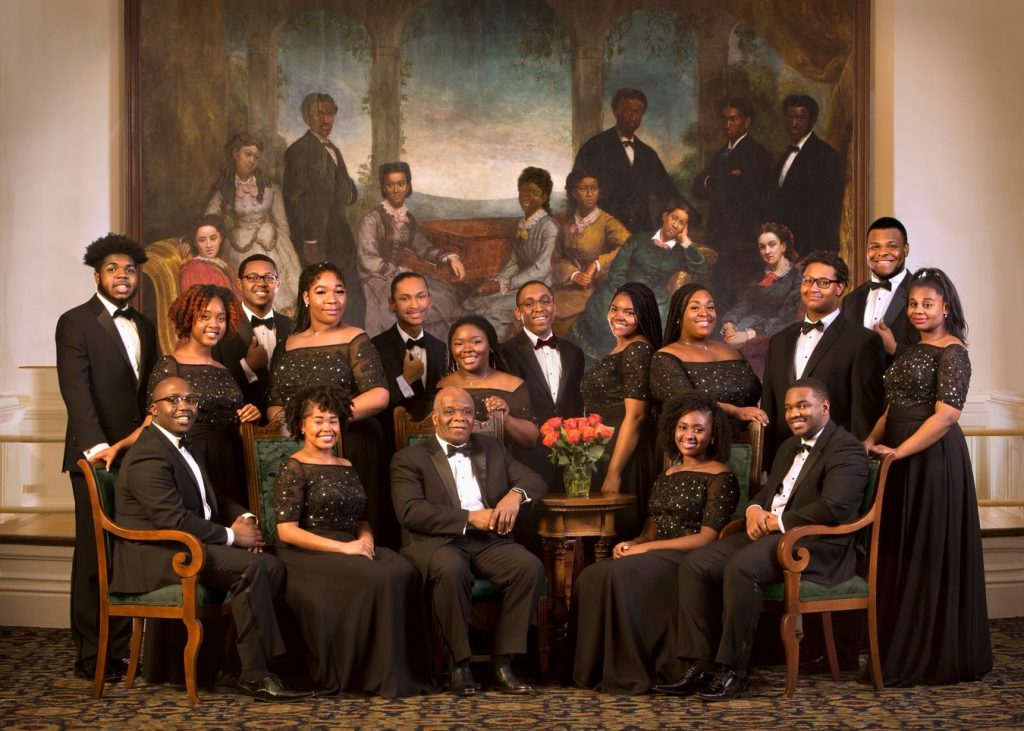 Atlanta, GA (September 12, 2019). The Atlanta Music Festival is an annual event that draws on the concert music and spirituals of African Americans, an enduring legacy which is now shared throughout the world. This year the festival returns to its historic roots at First Congregational Church and brings back the Fisk Jubilee Singers who sang in the original festival in 1910. The 2019 Atlanta Music Festival will take place on November 2, 2019 at 7:30 p.m. in the sanctuary of First Congregational Church, UCC in downtown Atlanta at 105 Courtland Street, NE. Other performers include Bass/Baritone Calvin Griffin, Tenor Timothy Miller, the Meridian Chorale and soloists.
The Fisk Jubilee Singers began at Fisk University, a school created for formerly enslaved persons. They played a crucial role in bringing the arranged African American spirituals to America and the world, singing before the Queen of England in 1871. Describing an 1871 performance at Oberlin College before a national convention of ministers, Dr. Horace C. Boyer, musicologist and former Jubilee Singers Director writes "…after the ensemble sang a few spirituals and slave songs, all of a sudden, there was no talking. They said you could hear the soft weeping…and I'm sure that the Jubilee Singers were joining them in tears, because sometimes when you think about what you are singing, particularly if you believe it, you can't help but be moved."
In the wake of Atlanta's 1906 race riots, Atlanta's First Congregational Church, under the leadership of the Reverend Henry Hugh Proctor, instituted social and educational programs to improve black communities and to encourage racial harmony. In May of 1910, First Church began the Atlanta Colored Music Festival to celebrate African American music and to invite the white community to experience the remarkable artistic achievements of African Americans less than a generation up from slavery. The festival featured the most prominent African American concert artists of the day. Open to all races, the two thousand attendees in Atlanta's Auditorium-Armory included a large contingent from the white community. Years later, Proctor recalled, "Our Music Festival brought the best musical talent of the race to the city and attracted great audiences of both races. As a matter of fact, we found that music was a great solvent of racial antipathies." This festival was presented annually through 1918. Dr. Dwight Andrews, current pastor of First Congregational Church and the Festival's Artistic Director, revived the music festival tradition in 2001 through a collaboration with the nonprofit choral arts organization Meridian Herald, led by Dr. Steven Darsey.
Meridian Herald engages musical, literary and spiritual traditions to affirm shared humanity, advance enduring truth, enrich the present and transform the future for individuals and communities. Meridian Herald is a proud recipient of the Governor's Award in the Arts and Humanities. "In this our 20th year of collaboration, Meridian Herald is honored to extend with Dwight Andrews and First Congregational Church the over 100-year tradition of the Atlanta Music Festival. We look forward to sharing music that inspires mutual understanding and a commitment to a just society for all," says Steven Darsey, who serves as Music Director for the Festival. In addition to the Fisk Jubilee Singers and the Meridian Chorale, the program will feature extraordinary bass/baritone Calvin Griffin. He has had successful debuts with the Atlanta Opera as Mother in The Seven Deadly Sins, as well as Morales in Carmen. Currently, he is excited to cover Zuniga in Dallas Opera's production of Carmen, to sing the title role in Le nozze di Figaro with the Florida Grand Opera, and to sing Eddie in Minnesota Opera's production of The Fix. Tenor Timothy Miller has many operatic, concert, and television appearances to his credit. He is an assistant professor of music at his alma mater Morehouse College and is beloved throughout Georgia for his singing for civic and religious events, and especially for his appearances with the Atlanta Braves.
Reverend Dr. Dwight Andrews, also a professor of music at Emory University, comments, "We are thrilled to welcome the Fisk Jubilee Singers back to historic First Congregational Church. This group continues the legacy of aspiration and excellence that their forbears demonstrated for over one hundred and fifty years. Art and education continue to be powerful tools of liberation and reconciliation. We can and must participate in shaping American musical culture by presenting the best we have to offer. By sharing this musical heritage with our community, we can offer a powerful witness to the enduring faith and resilience of a people who would not be diminished or deterred by slavery or racism. This concert represents a celebration of hope desperately needed in our world today." Tickets may be purchased online for $25.00 at www.atlantamusicfestival.org