First Congregational Church honored by City of Atlanta on Monday, June 5th
by the Atlanta City Council at Atlanta City Hall.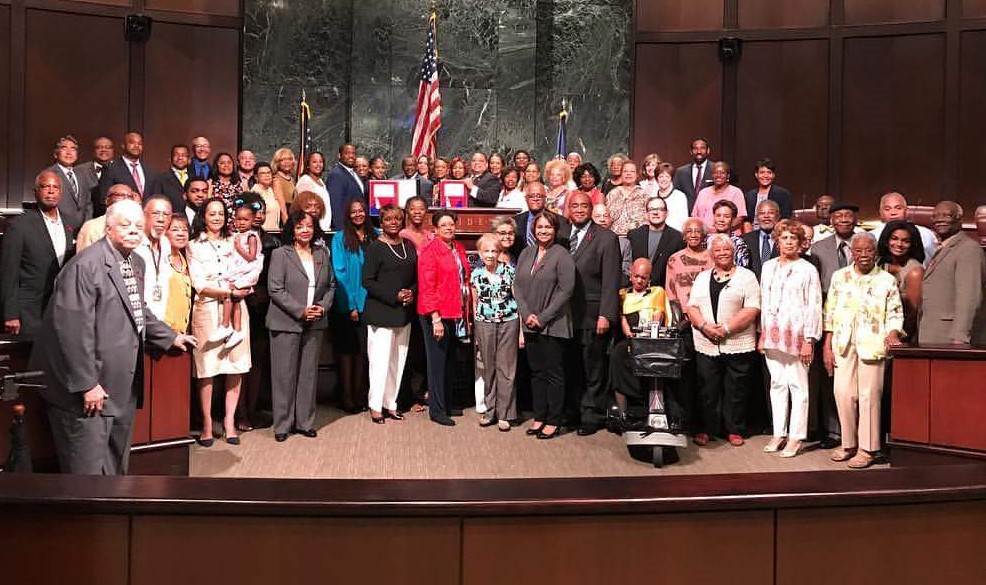 The City of Atlanta honors First Congregational Church, U.C.C. and The Reverend Dr. Dwight Andrews celebrating the 150th Anniversary of the church on Monday, June 5, 2017 in a ceremony in the City Council Chambers.
A proclamation saluting the history and the legacy of the church and its members was presented by City Council President Ceasar Mitchell, Councilman C. T. Martin, and other city council persons.
First Church, founded in 1867, is one of the oldest African American congregations in Atlanta.  The American Missionary Association (AMA) established the Storrs School in 1865 which provided classes, worship, and social services for former slaves. Land was donated to the congregation on the corner of Houston and Courtland Street, and a new "little red church" was built.
Over time First Congregational Church developed facilities and programs to meet the special needs of the surrounding neighborhood. They provided the first gymnasium available to Atlanta blacks. Their home for young black single women was the only one of its kind in the city. The church's employment bureau served blacks and whites. A water fountain erected outside the church provided drinking water to Black people, and  to all races, and was the first public water fountain opened in the city. The trouble bureau was a clinic for medical ailments and a prison mission, one of the first in the nation, served those who were incarcerated.  There was a Music Festival that brought the best black musical talent to the city where they performed before racially integrated audiences.  The church also offered its members a day nursery, classes in domestic science, and industrial classes for the blind. The churches reputation was such that presidents of the United States came to see what this African American church was doing.
The current leader of the church, The Reverend Dr. Dwight Andrews, was installed as pastor on July 19, 1999.  Under his leadership the church continues to have innovative programs including a highly esteemed music ministry. In 2012, First Church completed a massive three-year, ten-million-dollar renovation and revitalization of the historic church building. The church is now home to several community partners including Sinfonia Youth Orchestra, the Trey Clegg Singers, C.H.O.I.C.E.S, and the Atlanta Music Festival, and more.
Read the CITY OF ATLANTA PROCLAMATION here.
Save
Save
Save
Save
Save