Welcome to the Return to First Friday at First "LIVE" for our 2022 Jazz Series with some of Atlanta's top jazz performers gracing the stage!
Tickets are NOW available on-line. Feel free to purchase Season Pass (Limited offer is available until May 6th) for the entire season or select any one of the scheduled performances.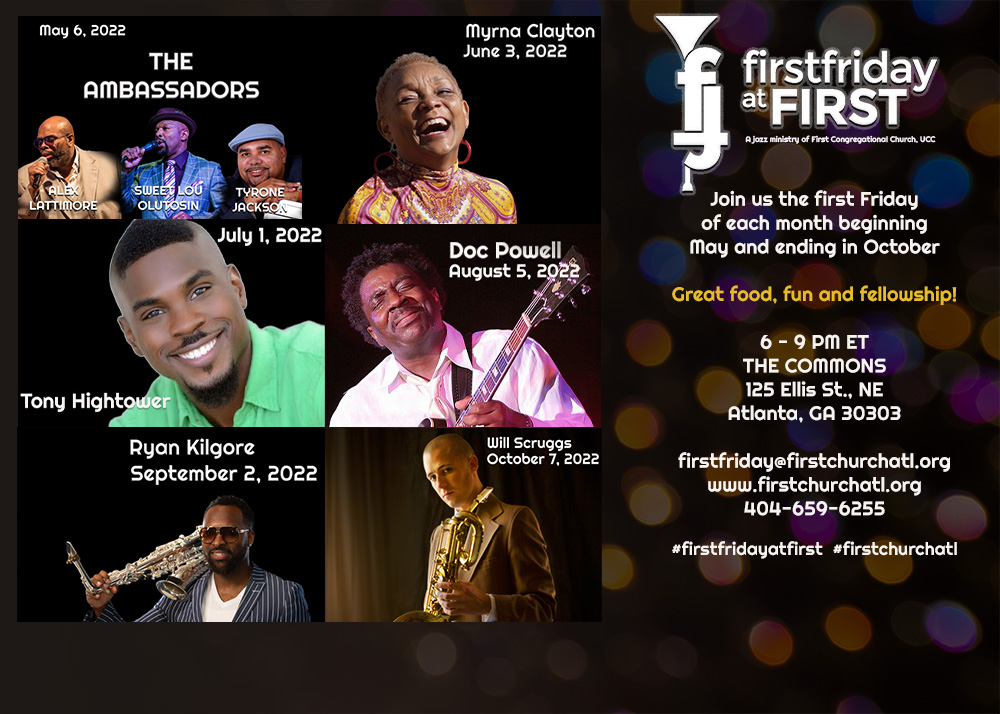 You don't want to miss The Ambassadors (The Freshest New Jazz group in the Southeast) in concert at the Return to First Friday at First "LIVE" in May. The line-up for the remainder of the 2022 Jazz Series at First Friday includes jazz musicians and vocalists such as Myrna Clayton, our extraordinary jazz vocalist for June; Tony Hightower joins us in July as he continues to be the bridge that ushers R&B audiences into Jazz; and the incredible guitarist Doc Powell returns to First Friday's in August. The Commons stage is lit with the impassioned sounds of Ryan Kilgore in September. Last, but not least, the 2022 Season ends in October with the mastery (and ministry) of saxophones by Will Scruggs!
The public is invited for great music, dinner, fun, and fellowship. Doors open at 5:30 PM.  Seating is limited. The availability of tickets at the door are based upon advanced ticket and table sales. General Admission tickets are $20, student tickets are $10 each with student identification (show ID at the door). Prices for dinner range from $4.00 to $7.00. All funds raised at church-based events will be used toward other church programming and ministries. 
For further information about First Friday at First or the purchase of Tables or Student Tickets, please contact First Church at 404-659-6255 and ask for the church administrator during regular office hours or contact the First Friday team at firstfriday@firstchurchatl.org.
COVID-19 Protocols
As part of our Return to First Friday at First "LIVE", we will continue to observe COVID-19 guidelines. Wearing of masks indoors is encouraged. To attend our "LIVE" concerts, you must meet the following pre-requisites:
Be fully vaccinated for COVID-19 and bring proof of vaccination when you arrive at the Commons.
Confirm that you have not had contact within the last 14-days with someone who has travelled outside of the U.S.
Have not been in contact with someone diagnosed with COVID-19 within the last 14 days.
You are not currently suffering from any of the following symptoms: fever, respiratory illness, cough, sore throat, shortness of breath
If you cannot meet these pre-requisites, please do not purchase your ticket or come to the venue , but contact your doctor for further medical assistance.
We look forward seeing you for a pleasant evening with good music and good food!