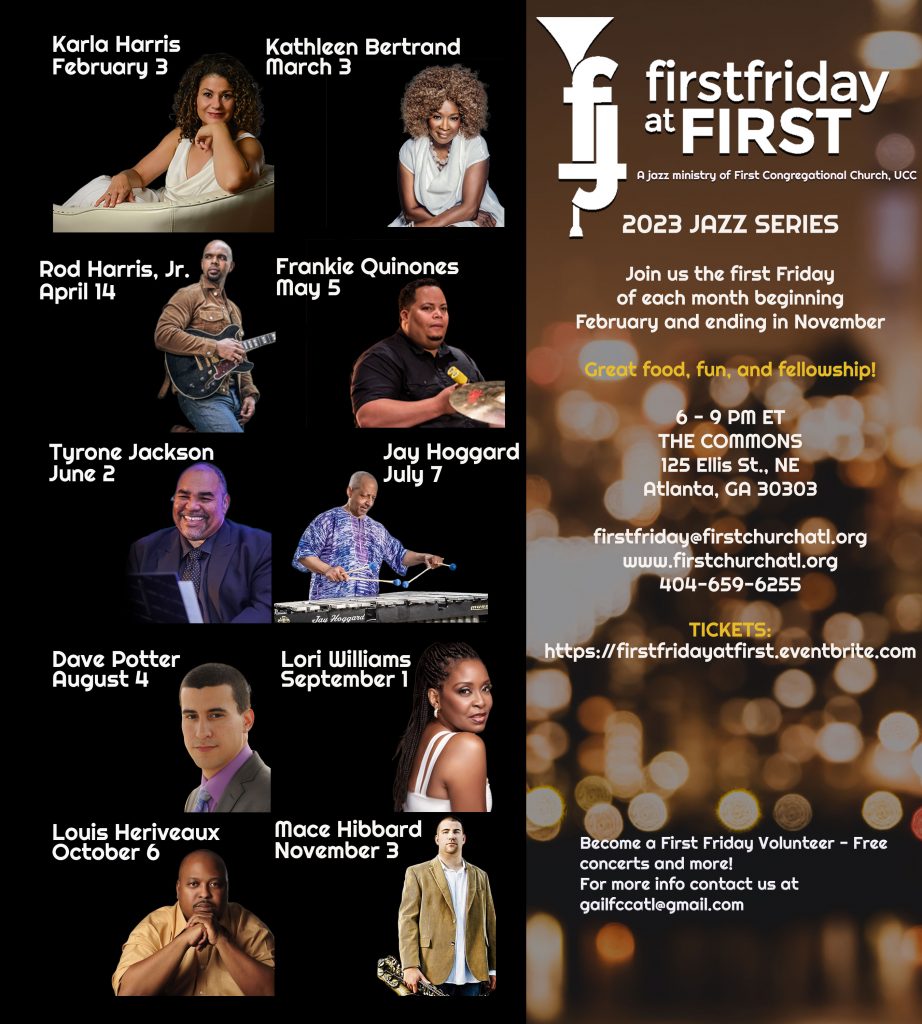 We are so excited to return to First Friday at First "LIVE" for our 2023 Jazz Series ! Atlanta's first choice for extraordinary jazz performed by many of the best musicians and vocalists to grace a jazz stage anywhere on the globe!
You don't want to miss the accomplished studio and live jazz vocalist Karla Harris in concert at First Friday at First in February.
Click here to purchase your ticket!!
The line-up for the remainder of the 2023 Jazz Series at First Friday includes the multifaceted recording artist and writer, Kathleen Bertrand in March; Grammy nominated jazz guitarist Rod Harris, Jr. joins us for the second Friday in April; the incredible Latin percussionist and drummer Frankie Quiñones returns to First Friday's in May; the popular quintessential jazz piano player Tyrone Jackson joins us in June; Jay Hoggard, ranked among the greatest vibraphone innovators, returns to the stage in July; acclaimed international jazz vocalist Lori Williams joins us in September; followed by the innovative, master of all 88 keys Louis Heriveaux in October. The season wraps in November with Mace Hibbard, one of the most exciting and versatile saxophonists on the scene today.
The public is invited for great music, dinner, fun, and fellowship. Doors open at 5:30 PM.  Seating is limited. The availability of tickets at the door are based upon advanced ticket and table sales. General Admission tickets are $25, student tickets are $10 each with student identification (show ID at the door). Reserved tables of 8 are $200. Prices for dinner range from $4.00 to $10.00. Funds raised at church-based events will be used to support other church programming and ministries. 
For further information about First Friday at First or the purchase of Tables, General Admission or Student Tickets, please contact First Church at 404-659-6255 or contact the First Friday team at firstfriday@firstchurchatl.org.
Free parking is available at the C.A.R.E. parking lot on Piedmont and Ellis Streets. Paid parking is available at the First Church parking lot off of John Wesley Dobbs at 105 Courtland Street .