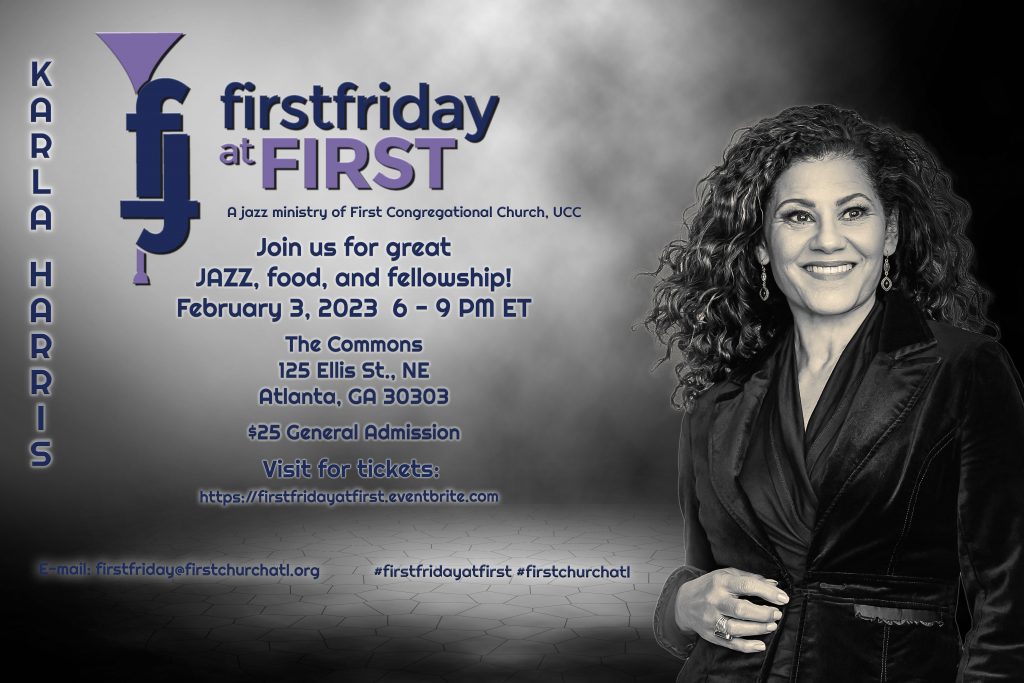 We are so excited to return to First Friday at First "LIVE" for our 2023 Jazz Series — Atlanta's first choice for extraordinary jazz performed by many of the best musicians and vocalists to grace a jazz stage anywhere on the globe!
The Season begins with the accomplished studio and live jazz vocalist Karla Harris in concert at First Friday at First on February 3, 2023 at 6pm!
With a style and range that runs from velvety vulnerability to soul-tinged power, singer Karla Harris is known for jazz vocals that bring honeyed nuance, sophisticated warmth and dynamic delivery to the songs she sings.
You are invited to enjoy great music, dinner, fun, and fellowship.
Doors open at 5:30 PM.
Ticket here: https://www.eventbrite.com/…/first-friday-at-first-jazz…
The availability of tickets at the door are based upon advanced ticket and table sales. General Admission tickets are $25, student tickets are $10 each with student identification (show ID at the door). Reserved tables of 8 are $200. Prices for dinner range from $4.00 to $10.00. Funds raised at church-based events will be used to support other church programming and ministries.